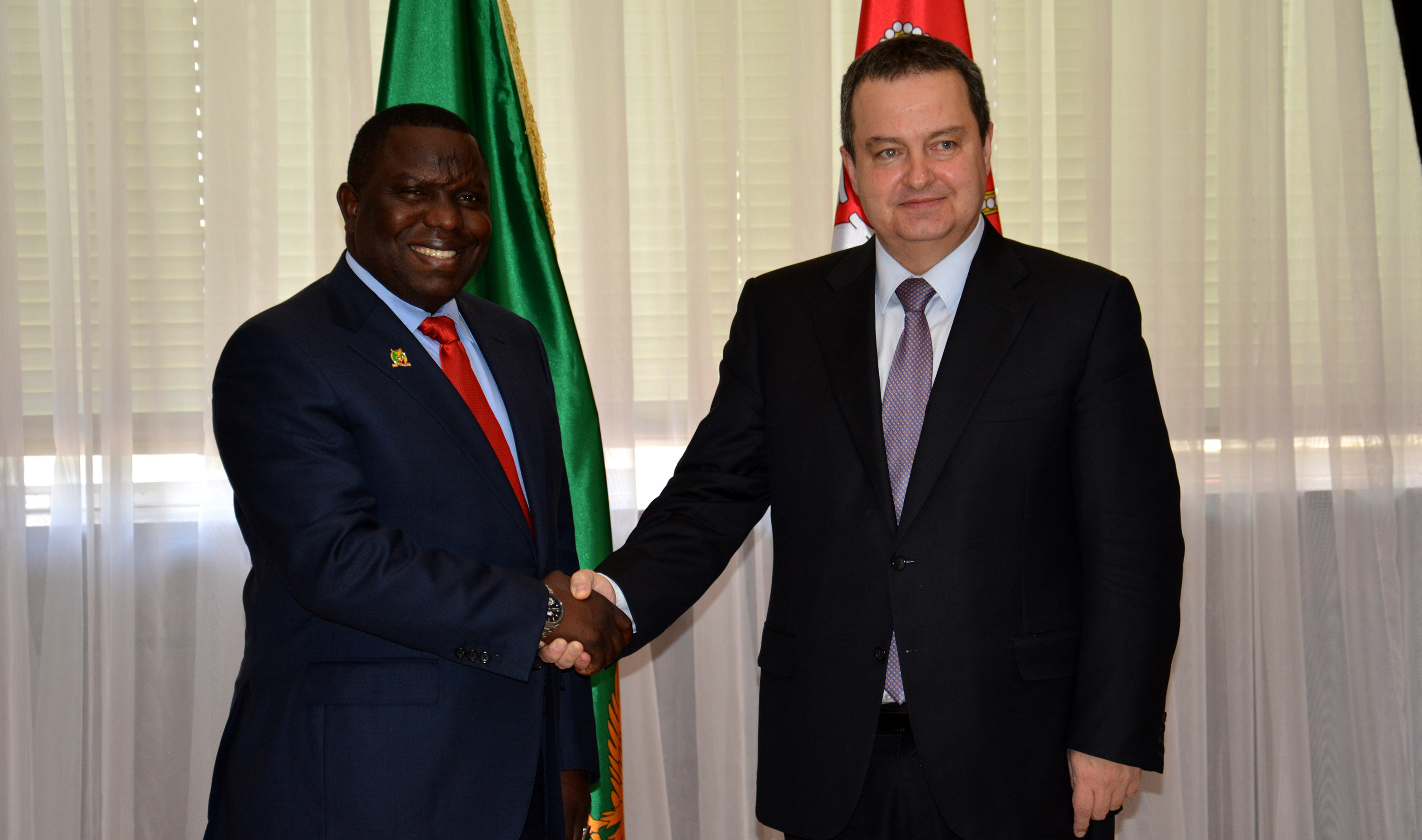 Belgrade, April 16th, 2015
Source: BETA, TANJUG
Serbia is interested in renewing its traditionally friendly relations and bilateral cooperation with Zambia, Foreign Minister Ivica Dacic has said. He made the comments after meeting with Zambian Foreign Minister Harry Kalaba in Belgrade on Wednesday.
"Believe it or not, trade between Zambia and Serbia amounts to USD 27,000 today. That is what the policy of not cherishing a friendship has led to," Dacic said at a joint press conference after the meeting with the Zambian minister.
Dacic said that he has launched a campaign in the Foreign Ministry that is aimed at renewing the friendly ties with many African, Asian and Latin American countries, with which, he said, Serbia has traditionally friendly relations.
Dacic thanked Zambia for its principled position not to recognize the unilaterally declared independence of Kosovo.
It is also the position of most African countries, and Serbia appreciates that, he noted.
The Serbian minister also stated that this was the first visit of a high ranking Zambian official after many years, and that Zambia "and Tito's Yugoslavia" were "great friends."
"Zambia's first president, Kenneth Kaunda, attended the funeral of (Josip Broz) Tito and wept," said the Serbian minister, and remarked that "we usually curry favor to those who don't like us," but added that this "practice" has now been changed.
Kalaba told reporters that it was "somewhat sad" that Serbia and Zambia failed to foster their relations through economic exchange, which is now "almost inexistent."
He added that his country wishes to establish cooperation, especially in the areas of economy, culture, military, agriculture, and sport.
"The Belgrade business community is welcome in Zambia," the minister said, and added that it was "unacceptable" for economic exchange to be at such a low level.
Kalaba also remarked that his country has not recognized Kosovo, and would not make any decision "until the Belgrade-Pristina dialogue has been finished."